Adding Photographs To Your New Album
i) If you have just created an album and have not yet put any photographs in it you will see "Hey! add some photos" on the centre of the screen.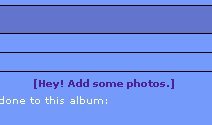 Click on this and the "Add Photos" pop-up window will appear. Please be patient while this window is being generated.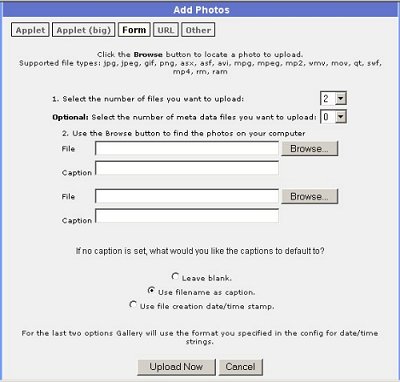 This window is broken down into a number of different elements.
a) At the very top of the window five submission options are available: Applet, Applet Big, Form, URL, Other. By default Form should be selected, but if this is not the case please select Form before proceeding.

b) The page also allows you to select the number of photographs you wish to upload at any one time. The maximum number is 10. Once you have selected the number of photographs to upload the correct number of file and caption boxes will be displayed.
Note leave the optional question about number of meta data files set to 0.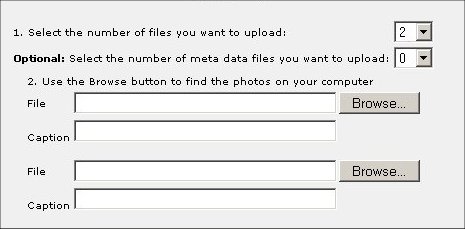 c) Now select the photograph(s) you wish to upload. Use the browse button by the side of each File dialogue box to locate the photograph on your computer. There is no need to worry about the size of the photograph as Gallery will automatically resize the copy photograph for you as it is uploaded.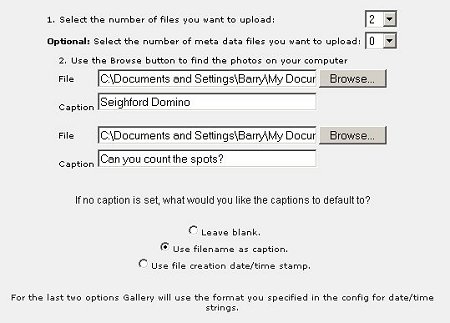 d) In the Caption dialogue box write a brief description of the photograph. If you prefer you can leave this blank and then Gallery will use the option chosen from the three at the bottom of the page.
e) When you are happy with your choice of photographs and the captions you have written click "Upload Now"
f) A file transfer pop-up window will appear giving you an indication that your photographs are being copied from your computer to the Gallery. Once the copying is complete a "Processing Status" window will be displayed showing which photos have been transferred, and whether or not they have been resized. Click "Dismiss" to close this window.