Registering as a Gallery Owner
You will only need to register with the Gallery once.
By registering you will get a username and password which will allow you to create, edit, and delete your personal galleries. Your username and password will not give you the right to edit or delete galleries which do not belong to you. You can create as many galleries as you like once you are registered.
To Register as a Gallery Owner
i) Enter the Gallery
ii) Select Register from the top left-hand corner of the Gallery screen
iii) The "Create User for Gallery" pop-up window will be displayed. In this window you will need to select your username. You will also be asked for your full name and e-mail address. This information is important as it is used as part of your Gallery information and will allow Gallery viewers to contact you about your pictures. The e-mail address is also used by the Gallery to send you a confirmation e-mail which contains a link back to the Gallery so you can set-up your password. Once you have entered the required information click Create.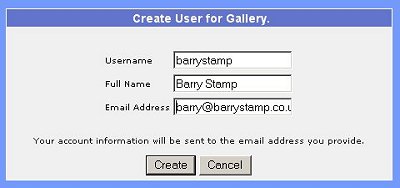 iv) An e-mail will now be sent to the address you gave on the previous pop-up screen. This e-mail will contain a link back to the Gallery. Click on this link and a new pop-up window will open with the "Make New Password" dialogue box ready for you to enter the password you would like to use. Please remember this password as you will need it to access your personal gallery space.