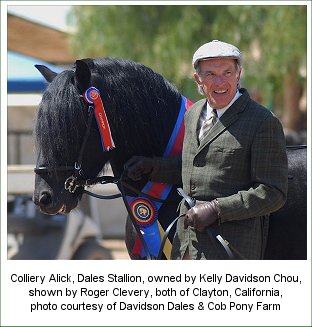 On January 18, the UK's National Pony Society (NPS) gained a new area chapter and took an important step towards promoting British Native Ponies in the United States.

The NPS council unanimously voted to accept NPS America's application for membership in its 115 year old organization. The NPS, which has HRH The Princess Royal as its patron, was developed to encourage the breeding, registration and improvement of British Riding and Mountain & Moorland ponies and to foster the welfare of ponies in general. The organization has continually recognized the importance of the Mountain & Moorland breeds - the Connemara, Dales, Dartmoor, Exmoor, Fell, Highland, New Forest, Shetland and Welsh ponies.
NPS America will model the NPS mission and will promote, support, and recognize Mountain & Moorland and British Riding ponies in America. While many of these pony breeds are embraced in the United States, others are little known.

The rarer breeds, like the Dales and Highland, are slowly growing in popularity while mainstays, like the Connemara and Welsh, continue to be top choices for equine enthusiasts. NPS America will cultivate these ponies as safe, versatile, and talented mounts for both the amateur and professional horseman, while acting as a resource for breeders and owners alike in maintaining the traditional character of these breeds.
Enthusiasts interested in NPS America should contact Kathryn Rayner Freeman - Kathryn@freeraynhill.com or Kelly Davidson Chou DavidsonDales@mindspring.com for more information.

Additional details on NPS America - membership, benefits and activities - in addition to tidbits on Mountain & Moorland and British Riding ponies will be available on the NPS America website which will be up and running by late February 2008.