The Battle of the Breeds is a unique competition which has been held every year since 1990 at the Spruce Meadows Masters Tournament, in Calgary, Alberta, Canada.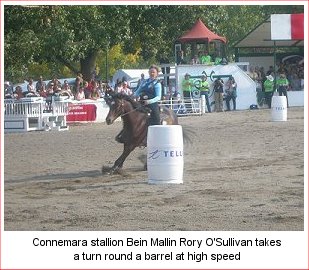 Any recognized breed of horse/pony/mule can enter a 4-horse team. In each of the 5 classes two of the team have to compete. These are: Compulsory Skills (dressage ridden or driven), Jeopardy Jumping, Obstacle driving, Barrel Racing and Jeopardy Trail. The two Jeopardy classes have a final obstacle with 100 points which can be gained or lost and are optional.
Connemaras have entered a team most of the last 10 years. In the early years they normally ended up about half way down the 11 or 12 teams. Breeds such as Quarter Horses and Arabians had thousands of animals from which to choose a team, compared with our small numbers. In both 2003 and 2004 we made 2nd place, having won some of the individual classes.
This year, we had a strong team including two veteran pony/riders as anchors. The first day was a little disappointing with Chelsea McNeil on the 13.2 hh stallion Bein Mallin Rory O'Sullivan, and Brian Morton on the 15 hh mare Hillside Sassafras placing only 5th in Compulsory Skills. In the afternoon they ended up 2nd in the jumping behind only the T.B's. Both took and were successful at the 3'6" vertical jeopardy jump.
The next day saw the obstacle driving class. We were fortunate enough to have the very experienced Marsoe Larose to drive both ponies (this is allowed in one class only). The course was very tricky and included a painted circle to be straddled without a wheel touching, plus the normal water and wood bridge obstacles. He had a beautiful and fast round with the very experienced mare Avenns Arrin Terra. His second drive was with "Rory" who has only been driven for 3 months. They were also fast and knocked only one obstacle, which placed them first.
The barrel racing competition always draws a big crowd and is in the Sand Ring. It was Elsie Priddy's first time at the "Battle" and she flew round in excellent time on her 6 year old gelding Rills Carrick Fergus. Brian Morton and "Sassy" had an incredible time of 23 seconds (4 barrels in this competition not 3) which put Connemaras 2nd behind only the Quarter Horses.
We started Saturday in the lead facing a most difficult trail class. Obstacles included riding through strips of hanging
plastic, carrying flags, crossing wood bridges and pushing an enormous ball between poles. Elsie and "Fergus" had an excellent round and were successful in the final jeopardy test of hitting a ball through a gate with a polo mallet. "Rory" and Chelsea had an exceptionally good round, but we did not let them try the jeopardy, as we had sufficient points to win the whole Battle without risking the 100 points.
Winners of the Battle go on to the International Ring in a parade, and to receive their trophy. We lined up in the collecting ring with all the "greats" of the show jumping world before treading the hallowed ground in front of an enormous audience.
We could not have paid for the exposure of all those people seeing 4 beautifully turned out and perfectly behaved purebred ponies, with the name "Connemara" mentioned over the loud speaker at least a dozen times.
Bridget Wingate
Team Captain