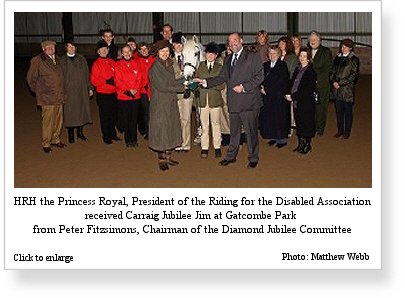 The British Connemara Pony Society (BCPS) has donated a Connemara pony to the Riding for the Disabled Association (RDA). The presentation was made to the president of the RDA, HRH the Princess Royal on Friday 18th January 2008 at Gatcombe Park.
2007 was the Diamond Jubilee of the BCPS and having donated a pony to the RDA in its 50th year BCPS members decided that 10 years on, they would like to repeat the gesture. Fundraising events took place throughout the year and after much searching by Peter Fitzsimons, Chairman of the Society's Diamond Jubilee Committee, a suitable pony was found.
Aptly named Jubilee Jim, the pony is a six year old gelding by Aran Flight (Abbeyleix Owen x Village Miranda) out of Gentle Lady (Garryhinch Prince x Coolmore Natti). RDA centres across the country applied for Jim to join them, and numbers were slowly whittled down from 40 to the five who came to try him for themselves. Eventually it was decided that he would go to the centre at Newbury and the Society is delighted that one of its members, Jane Allen who volunteers there, will be working with Jim and can provide regular progress reports.
The Connemara is renowned for its versatility and good temperament and although it shouldn't exceed 148cm, with its deep girth and good length of rein, it can be ridden as comfortably by an adult as a child. This flexibility, coupled with his rock steady temperament makes Jim ideal for the RDA.
BCPS Chairman, Anne Harries is delighted to be able to support this worthy cause.
"We get such pleasure from our own ponies and we hope that Jim will be able to bring that enjoyment and therapy to everyone at RDA Newbury."
Ed Bracher, Chief Executive of RDA National said,
"With more than 500 Groups and 25,000 riders to support, we are constantly looking for good quality ponies and horses, which can deliver real and lasting therapy to our participants. The Newbury RDA Group was chosen from many Groups who applied to win Jubliee Jim and has more than 70 riders who will benfit from riding him. This kind of support from the BCPS is invaluable and very gratefully received."

Jo Stevenson-Hamilton, Chairman, Newbury RDA Group added,
"Newbury Group Riding for the Disabled were surprised and delighted to learn that we had been selected to receive Jubilee Jim, a 6 year old Connemara pony from the British Connemara Society. He is a beautiful pony with the perfect temperament to work with disabled children and we are most grateful to the British Connemara Society for all their hard work fundraising in order to buy him for Riding for the Disabled."
For further information about the The British Connemara Pony Society visit www.britishconnemaras.co.uk and the RDA www.rda.org.uk