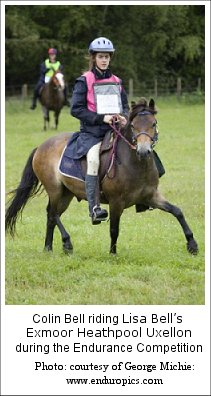 Scottish Exmoor Pony Riding Club member Colin Bell took part in the first Pony Club Scottish Endurance Team Challenge on the 1st July 2007. The event was hosted by the Highland Branch of Scottish Endurance Riding Club's at 'The Fling' Ride.
Inverness Pony Club beat Ross-shire Pony Club to win the first Pony Club Endurance Team competition held in the UK!
Each team faced all the "normal" problems teams face prior to a ride with horses and riders dropping out but managed to overcome most of them. Unfortunately Ross-shire lost a horse to illness on the morning of the ride so the team started one rider down but the riders had the advantage in riding on home turf.
Inverness Pony Club brought four riders home and Ross-shire 2 - the third pony was slightly lame at trot up after a slip on route!
Inverness Pony Club were assisted in winning the trophy by Colin Bell riding Lisa Bell's Exmoor Heathpool Uxellon.
Colin and Uxellon regularly compete in local showing classes both ridden and in-hand; at Scottish Endurance Rides; and have recently entered their first Introductory Dressage Test. Colin is keen to promote the Exmoor Pony as a genuine 'all-rounder' and being capable of achieving Endurance rides of longer distances. Plans to take Uxellon to Bronze Thistle Final (BTF) level this season have so far been thwarted by the wet weather with more than a few of the major rides, including the Scottish Endurance Championships, being cancelled.