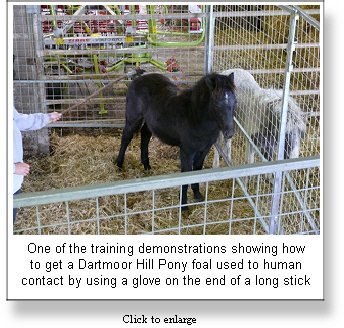 The Dartmoor Pony Training Centre would like to thank everyone who attended their Dartmoor Hill Pony Information day on Sunday 30th September. It was a great day, the weather was kind and the ponies behaved themselves - well most of them!
The DPTC worked with the Friends of the Dartmoor Hill Pony to put this event together to promote the Dartmoor Hill Pony as a breed and to show both what the ponies can do and why the breed is special that should be looked after and supported.

Charlotte Faulkner of FOTDHP was there with four of her Dartmoor Hill ponies that have proven over the years how versatile the breed can be.
They were also demonstrating and talking about various training techniques which work well with unhandled Dartmoor Hill Ponies.
Ponies which belonged to Dartmoor Hill Pony breeders on the moors were also at the event, some of which were used in the training workshops. All were for sale and very pleasingly some of them were sold and will go on to live fruitful lives in their new homes.
The Dartmoor Pony Training Centre would like to thank all the people who helped make the event what it was, as well as a big thank you to all the businesses who donated prizes to their raffle. They managed to raise £330 on the day which has covered the costs of staging the event and means next year there can be another one!
The Dartmoor Pony Training Centre have various ponies looking for permanent loan homes including 6 month old foals as well as a few older ponies a couple of which are ready for breaking. If any one is interested in loaning a pony, buying a pony direct from a farmer or working with the Dartmoor Pony Training Centre please contact Natalie or Kathryn on 01364 654609 or e-mail dartmoorponytrainingcentre@yahoo.co.uk