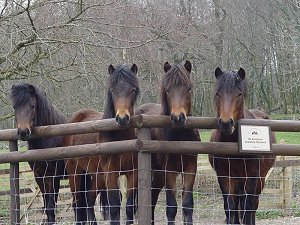 The Dartmoor Pony Heritage Trust is running its 'second' annual sale of quality Dartmoor Heritage ponies on Saturday 21st July at Holwell Farm - TV's "Forgotten Farm", Widecombe-in the moor, Dartmoor.
The day's entertainment starts at 10.30am with some fascinating demonstrations of wild pony handling techniques from the well respected Vanessa Bee of Positive Horsemanship. Vanessa and the DPHT team will have spent an intensive week handling all ponies for the sale, the team will run 'handy pony' sessions demonstrating how easy the ponies are to handle and work with.
Also there will be an opportunity to come and meet TV celebrity Johnny Kingdom who has been handling ponies with us in the run up to the sale and will even be trying his hand at selling the ponies he worked with later in the day.
Pony stock will be on view from 12noon and the sale will then run between 2pm - 4pm.
A selection of 30 halter broken ponies will be available, ranging in age from yearlings to backed six year old geldings and mares. Pony breeders will be on hand to discuss their ponies and suitability for your situation.
These tough ponies, born and bred on the Commons of Dartmoor make outstanding riding or driving ponies. They are also perfect for boosting a young rider's confidence; as they are surefooted and are known for their kind and gentle temperaments. They also make excellent conservation graziers and can live out happily all year round with minimal if any supplementary diet.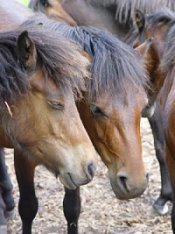 As well as the ponies related activities there will also be an awesome falconry display which is planned to run late morning. This will included a selection of eagles, hawks, falcons and owls all of which will wow the audience with their aerial acrobatics.

There will also be a BBQ, with all the meat being supplied from the Farm's butchery "Tor to Tor". Visitors will also be able to buy fresh Dartmoor meat to take home. A selection of stands and stalls will also add to the occasion.
The Dartmoor Pony Heritage Trust became a registered charity in April 2005. The trust has committed itself to raising awareness and the overall value of the indigenous Dartmoor ponies which have fallen into such steep decline. With less than 400 Dartmoor Heritage ponies on the Commons of Dartmoor they are now rated at a critical level. The loss of their precious blood lines are cause for great concern, as these ponies fall ever closer to extinction. However, by raising the value of the stock through handling and holding these specialist sales for more discerning buyers, the Trust hope to encourage pony keepers to continue to breed them for the commons.
By investing in a Dartmoor Heritage Pony you are helping preserve the indigenous herds of traditional Dartmoor Ponies running wild and free on Dartmoor. Help the DPHT secure their future.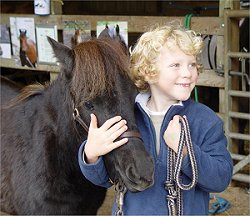 If your looking for fun and a new family member, or would like to attend the sale with a stand please contact the Trusts Charity Manager Dru Butterfield for more information. Dru can also provide a list of ponies which are currently for sale. Either e-mail Dru at dru@drubutterfield.fsnet.co.uk or by telephone 01626 355314 or 01364 631250. Further details of the work of the Dartmoor Pony Hertiage Trust can be found on their website - www.dpht.co.uk
For more information about Vanessa Bee of Positive Horsemanship who will be running the handling demonstrations during the sale and who can also supply a range of equipment to help manage semi-feral ponies please telephone 01409 221166 or e-mail Vanessa at mail@positivehorsemanship.com
Native Ponies Online would like to thank Dru Butterfield, Charity Manager, for the Dartmoor Pony Heritage Trust for
both this information and permission to use DPHT photographs