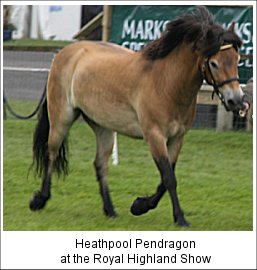 Scottish Exmoor Pony Riding Club members have had a busy June, taking their ponies to shows around Scotland and attending riding club events, both pony and social.


The second weekend in June saw Heathpool Pendragon and Heathpool Voritia attending the NPS Scotland Summer Show at Strathallan Castle. Having attended the show last year and been disappointed to find no Exmoors we vowed we would take some ponies to represent the breed this year. The two ponies did us proud, being well placed in the Home Produced Inhand class and Pendragon qualifying for the NPS Scotland Finals at Blair.


Not resting on his laurels, the day after the NPS Show saw Pendragon joining his friends at the SEPRC Members Rideout in Carron Valley. Ten members with seven Exmoors, plus one honorary Exmoor, attended the club's first fun ride at Carron Valley. A 16km route was given to the fast group, who were treating it as an endurance training ride, and a shorter route was given to those with less fit ponies and the youngsters experiencing their first rides out in company. It was a lovely route, perfect for the babies in the group and all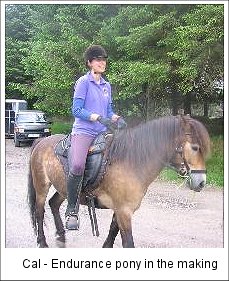 the ponies behaved well (most of the time!!!). Once back at base the bbqs were lit and the pony chat continued. Many thanks to our chefs who managed to entertain themselves for the time we were out on the ride and then provide great grub!

SEPRC Members later in the month attended the Royal Highland Show with ponies in tow. Heathpool Yew and Jura did really well at their first show and were placed 4th and 5th in the 2 and 3 year old Dartmoor/Exmoor inhand class, their experience at the SEPRC Youngsters Day in April definitely helping with their behaviour, taking it all in their stride. Heathpool Pendragon and Heathpool Voritia were 3rd and 7th respectively in the adult Dartmoor/Exmoor inhand class, this year dominated by Exmoors which was a great sight. Pendragon also made his Royal Highland Show debut in the Ridden class and was a respectable 5th of 8. The SEPRC training and outings are definitely paying off!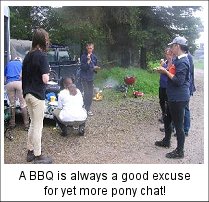 SEPRC Members are now looking forward to a busy July with endurance rides planned for at least 4 of them, local shows and the SEPRC Potter's Pimms and Polo day on 21st July. Cross country training is in the pipeline for August if we can find a spare weekend and another rideout, near Edinburgh, early September (BBQ may be weather permitting this time!).

Alison Downing - Secretary
Scottish Exmoor Pony Riding Club
www.seprc.scottishexmoors.co.uk