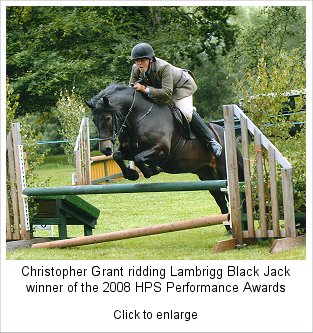 Lambrigg Black Jack ridden by Christopher Grant was the winner of the Highland Pony Society's 2008 Performance Awards after collecting almost 4000 points more than his nearest rival. Christopher can certainly be proud as he finishing the year on 8,176 points, a total not bettered since 1995. The points were gained in a wide range of activities including dressage, cross country, show Jumping, WHP, many Pony Club activities including Pony Club Camp and qualifying for the National Intermediate Championships in Dressage. Christopher not only won a Bronze Medal from the HPS which he gets to keep, but also the Glenda Spooner Trophy for being the cverall winner, The Benny Trophy for the highest placed gelding, and The Rimond Cup for the highest placed junior rider.
2nd place in the competition went to Jackie Berry on Bluebell of Comberbank who gained a credible 3,405. Jackie and Bluebell had been placed 2nd or 3rd over the last 4 years and had sadly lost out on winning any silverware but this year, as the Highest Placed Mare, they carried off the Brownbread Rebecca Trophy.
In 3rd place was Sandy Mairs ridding Ailsa of Glenlomond who with 1,738 points just pipped Mrs P Robson and Quest of Mendick into 4th place by just 3 points! As the Highest Placed Newcomer Sandy Mairs won The Whitehope of Morag Salver as well as a £100.00 bursary to be used for riding lessons, while not to be outdone Mrs Robson won the a new The Whitehope of Morag Rosebowl for gained the most points from dressage competitions!
The full list of results are as follows:
Position
Pony
Rider
Points
Award
1
LAMBRIGG BLACK JACK
Christopher Grant
8,176
Glenda Spooner Trophy
Benny Trophy
Rimond Cup
2
BLUEBELL OF COMBEBANK
Jackie Berry
3,405
Brownbread Rebecca Trophy
3
AILSA OF GLENLOMOND
Sandy Mairs
1,738
The Whitehope of Morag Salver + £100 Riding Lession
4
QUEST OF MENDICK
Mrs. P Robson
1,735
The Whitehope of Morag Rosebowl
5
PHOEBE OF DINEFWR
Margaret Harfield
1,473
6
CHALMADALE NA DAILACH
Chris Bassett
1,370
7
GREADHAICH OF TALISKER
Catriona Carnegie
1,222
8
SPOTTISWOOD STRATHMORE
Sara Chamberlain
1,031
9
GLENBANCHOR BARRA
Sara Chamberlain
1,028
10
CLANDON LOVEDAY II
Jackie Berry
1,017


The following ponies and riders also took part and were awarded rosettes


Burnside Erin
Jan Grant
Oakcroft Talisker
Lynne Campbell
Celia of Dykes
Judy Harwood
Hudsondene
(owned by Jane Fenton)
Gemma Wiggins
Truim of Croila
Mrs Giles
Benspey Mitch
Tracey Clarkson
Langley Gipsy Legend
Alison Champion
Chapelhill Ted
Anna Wedgwood
Rignall Ruari
Caroline Harwood
Lyncrest's Rhonda Lass
Michelle Cockburn
Summer of Torlundy
Deirdre Robinson
Hector of Langley
Sammy-Jo Grantham
Whitehope Morag
Christopher Grant