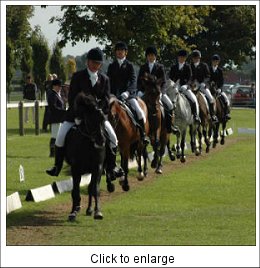 Once again these versatile New Forest ponies, ridden by adults, have competed against horses and ponies in the British Riding Clubs National Championships held at Lincoln Show ground to win the Rural Riders Dressage. This consists of six ponies/horses riding a dressage test all together. The New Forest Pony Enthusiasts Club, the only all native pony team, were the last to compete of the nine teams and won with a lead of 27 points.
It is interesting to note that this team consisted of two stallions, one mare and three geldings riding together in harmony. Longcopse Elton (Mandy Pidgley) was the lead pony followed by Farriers Firelight (Martine Reeves), Farriers Foxglove (Helen Campbell), Farriers Finger Print (Charlotte Manning), Chester II (Sally Anne Pearson) and Kilncopse Fly by Night (Dawn Vear) with the chef d'Equipe, Sarah Green.
Organisers must find predicting rug sizes for the winners a nightmare. With these particular ponies ranging from 13hh to 14.2hh, horse rugs tend to swamp them. Apparently rugs allocated for the junior championships the following day were used! The NFPEC are also the holders of the BRC National Hunter Trial Novice Senior Championships.
Joy Alderson
Secretary of New Forest Pony Publicity Group