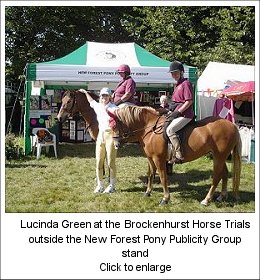 New Forest Pony prices have risen by 270% according to an independent report commissioned by the New Forest Pony Publicity Group
The report concludes that this impressive increase in the auction prices of the ponies is because of the work of the group which was formed in 2002 and funded by the EU's New Forest LEADER+ Programme and part of the Forest Friendly Farming Project.
Shirley Young, Leader of the NFPPG thanking her team, said: "We have been fortunate through our funding to have the opportunity to promote our wonderful breed and it is very satisfying to know that our work has been successful."
With consistent wins and top placings for this breed at National level in Dressage and Hunter Trials, both Forest Bred and Stud ponies are being sought. A Forester entering affiliated British Eventing Intro - the only pony - won its section. To add to the credits, Trec Level 4 has another Forester consistently winning or highly placed at National and International Championships.
At Beaulieu Road Saleyard, Lyndhurst, where registered New Forest ponies can be bought, the NFPPG organise two Pre-sale shows (Youngstock and Foal) a year where all entries must be halter broken. More recently, at the May 2006 Youngstock auction following the show, a two year old colt sold for 790gns and a filly for 800gns. Prices remained in the upper hundreds for the remaining show entrants.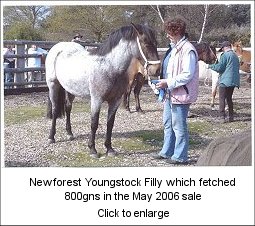 Sally Igra, LEADER+ Programme Manager said: "The grass roots approach by the group has been the key to its success. It has meant that local people were instrumental in identifying and finding solutions to local needs. New Forest ponies play an integral role in the New Forest, in particular maintaining the landscape and attracting a large number of visitors."
Once again 2007 will see a NFPPG stand at the major equine shows and this year they will be repeating the New Forest Pony Experience weekend providing an opportunity to find out more about this native breed. Pre-sale show dates are 3rd May and 27th September. The full report - "Trends in New Forest Pony Sales 2003-2006" can be found at http://www.southernhorse.co.uk/ppg/PPGReportSAIFinal231106.pdf

Joy Alderson
Sec. of the NFPPG
Email: dairyfarm@beeb.net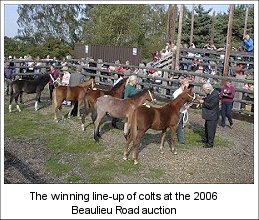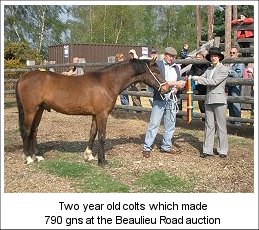 Click to enlarge