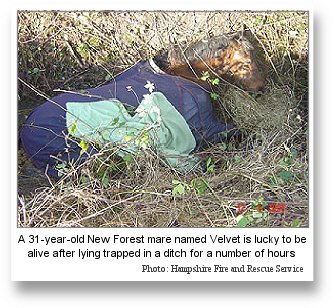 A 31-year-old New Forest mare is lucky to be alive after lying trapped in a ditch for a number of hours.
Thanks to the work of Hampshire Fire and Rescue Service crews from Basingstoke and Eastleigh fire stations the mare named Velvet was winched to safety after being trapped in the ditch for at least a couple of hours.
The Fire and Rescue Service first got the reports of a large horse trapped in a deep ditch and when they arrived at the farm in Goddards Lane, Sherfield-on-Loddon, found the 13.2 hand, 350 kg, New Forest mare exhausted and lying in a cold stream.
Rural Safety Officer Anton Phillips told Native Ponies Online "It appears that Velvet may have stumbled through a hedge and fell five to six feet into the ditch, which has a stream running through it. It was initially thought that she may have broken her pelvis, but further examination revealed she hadn't."
"Fire crews then set about rigging up a harness and using a tele-handler managed to ease the ageing horse out of the water."
"Velvet was beginning to suffer from hypothermia and as soon as she was out we covered her in blankets to keep her warm. Soon she was back on her feet once again. When you consider that in human terms Velvet is about 80 years old, this was an excellent result."
Watch Manager Anton Phillips is one of three Animal Rescue Advisers who work for Hampshire Fire and Rescue Service. The specialist team is leading the way in animal rescue work in the UK with other fire and rescue service's learning from their example. The advisers assist at roughly 300 incidents a year, but their role is not solely responding to incidents they are also heavily involved in education and the development of new rescue techniques and promoting animal welfare.
For more information about the work of Hampshire Fire and Rescue Service Animal Rescue team visit
http://www.hantsfire.gov.uk/