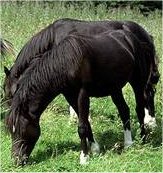 Wild Welsh Mountain ponies are in danger of disappearing says new report
Wild or semi-wild ponies have roamed freely in Wales for perhaps three millennia, but a new study suggests that their days as a tourist attraction and symbol of Welsh tradition could be numbered. Unless, that is, land managers can be persuaded to use the semi-feral Welsh Mountain pony as a conservation grazer.
The report, commissioned and part-funded by the Countryside Council for Wales and sponsored by the Welsh Assembly Government, was written by conservation scientist David Anthony Murray as a scoping study of the semi-feral Welsh Mountain pony's status in Wales.
The semi-feral Welsh Mountain pony can help prevent biodiversity loss by providing appropriate, environmentally sustainable, grazing of a wide variety of Welsh habitats.
The study indicates that the semi-wild pedigree pony is threatened with extinction in its native habitats because:
| | |
| --- | --- |
| | Increased economic constraints and bureaucratic complexity offer insufficient farmer-breeder incentive to conserve herds. |
| | Continuing loss of irreplaceable breedlines is accelerating the erosion of the breed's important genetic characteristics. |
| | The real and potential advantages of semi-wild Welsh Mountain ponies as optimal conservation grazers are not fully appreciated. |
| | Relatively few pedigree semi-feral ponies are currently used in Welsh conservation grazing schemes. |
The loss of remaining semi-wild herds could have serious negative consequences for the sustainable management of Wales' extensive upland and lowland grazing systems, for biodiversity and for the continuing existence of traditional breeding practices.
The author suggests that, because conservation grazing opportunities are more or less limited, Welsh land managers who use semi-feral equines should employ pedigree ponies rather than:
| | |
| --- | --- |
| | Unregistered ponies of unknown origin. |
| | Exotic, i.e. foreign, horse and pony breeds. |
| | Other British native pony breeds. |
Improved education of land managers and breeders, together with increased financial incentive, will encourage farmer-breeders to maintain semi-wild pedigree herds, ensuring their long-term survival.
The Countryside Council for Wales awarded the author a grant towards his detailed study of the semi-feral Welsh Mountain pony's status. The Welsh Pony and Cob Society assisted in research undertaken for this project.
The report, which it is anticipated will be publicised by the Countryside Council for Wales in the foreseeable future, is titled "Current status, with reference to conservation grazing, of the Welsh Mountain (Section A) semi-feral pony following de-coupling of farm subsidies through CAP reform in Wales - a scoping study."
However if any group or individual would like to receive a copy of the scoping report on CD these can be obtained direct from David for £20 which include the cost of preparation, packing and postage.
Atternatively The report can be viewed on the author's web site matilda.boltblue.net