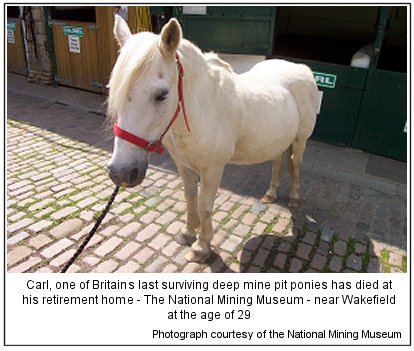 A chapter of mining history is drawing to a close after the death of one of Britain's last surviving pit ponies.

Carl, a 29 year old, 12.2hh light grey Welsh pony, died at his retirement home -The National Coal Mining Museum for England at Caphouse Colliery, near Wakefield, West Yorkshire - on 13th October. He has lived at the museum for twelve years following his retirement from Ellington Colliery in 1994.
Carl was one of the last four ponies brought out of the colliery having worked there for some twelve years, moving materials and carrying out salvage work. At the turn of the century, more than 70,000 ponies were employed in Britain's collieries, but by 1994 there were fewer than 20. Carl with three companions - Flax, Alan, and Tom were the last to retire from Ellington - the UK's last deep-sea mine. Ellington Colliery itself closed last year
"Carl was a wonderful pony; full of character and very mischievous. During his time at the Museum, he participated in 'All the Queen's Horses' for the Queen's Golden Jubilee at Windsor in 2002, and attended many local shows and events, allowing people to learn how pit ponies lived and worked. We know Carl will be sorely missed as he was loved by all who met him. His loss will be felt by all the staff at the Museum, the visitors and those who adopted him", a Museum Spokesman told Native Ponies Online.

However a visit to the museum is still worthwhile as it is the home to three of Carl's companions. Colonel - a shire horse, Patch and Robbie - who worked in drift mines, and Sparky, who retired a few months before Carl from Ellington and who now must be the only surviving deep mine pit pony. Sparky is grand old man of 35! Details of these ponies can be found at http://www.ncm.org.uk/pit_ponies.asp
If anyone would like to make a donation to the Museum's pit pony appeal in Carl's memory or would like to adopt one of the other ponies, please contact the Museum on 01924 848806 or visit the National Mining Museum's web-site - www.ncm.org.uk . Adoption cost just £12.50 for which you will get an adoption pack which includes your adoption certificate, a colour photograph of the pony, a pony fact sheet, and A Pit Pony Appeal badge.