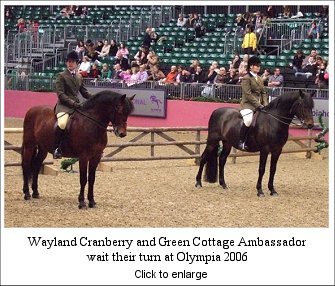 Supporters of the New Forest pony watched eagerly as the Native ponies were judged at Olympia 2006 in the Mountain and Moorland Class, NPS/Baileys Horse Feeds to find the Supreme Ridden Champion. This time there were two representing the breed amongst four Connemaras.
Wayland Cranberry out of Esdaile Holly Berry by Katric Capers, owned by Mrs Mary Bryant and ridden by Mrs Elaine Morgan was making his 4th appearance at this show. Elaine has ridden this 14 year old stallion since he was backed as a four year old. He has amassed a total of 70 Championships and 75 Supremes in WHP, Ridden and In-hand Classes, competes in Elementary Affiliated Dressage and has started Medium level. Caroline Salker started jumping him when he was 10.
In spite of all this prestige, he has no special treatment such as lights and rugs to prevent his winter coat. Cranberry has a full winter coat lives out during the day in a muddy field alongside his three sons and comes in at night. Living in the New Forest there is always a chance he might join the free roaming mares! Though he is a very easy pony and handled by children. West Kingston Stud has sold more of his semen than any other horse or pony.
The other New Forest stallion was newcomer 11 year old Green Cottage Ambassador out of Gosden Prickle by Peveril Peterborough owned and ridden by Mrs Fiona King. Ambassador though backed at 4 years only started competing in Novice Workers and Pictons as an 8 year old. Fiona busy producing Peterborough found little time for Ambassador though they did win the Knightwood Challenge partnered by Guy Williams three years ago when professional show jumpers pair with New Forest ponies' show jumping at the New Forest Show. At that time Fiona was pregnant. Once again Fiona is pregnant - 7 months - and after Olympia she will be hanging up her boots until after the baby is born.
Wayland Cranberry took best of breed which he has achieved for the second time. Congratulations to both stallions in representing this overlooked breed.
Joy Alderson, Sec. New Forest Pony Publicity Group