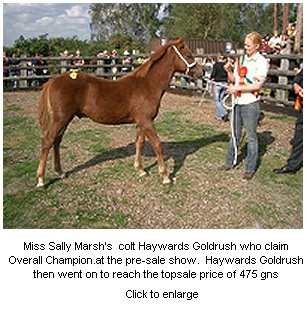 The 21st September 2006 Beaulieu Road Pre-sale Show and Sale for Registered New Forest Foals saw a a colt foal sold for the top auction priceof 475 gns. This annual event, jointly run by the New Forest Pony Publicity Group and the New Forest Livestock Society, gives sellers the opportunity to have their halter broken foals judged competitively in front of buyers before the foals are offered for auction.

Organiser, Mrs Mandy Pidgley, from the New Forest Pony Publicity Group, told Native Ponies Online that because of the large number of entries she had to split the filly and colt classes into two. "My telephone was constantly ringing with enquires and emails were flooding in. The show itself was judged by Mr David Sykes and took place as soon as the foals had been vetted, and ticketed by the auctioneers", said Mrs Pidgley
Commencing with the first of the fillies classes (Class 1) Mrs M A Tillyer with Sprattsdown Woodsmoke took first prize and Best Forest Bred. The foal later claimed an auction price of 230 guineas. R & J Stride won second and third with Rushmoor Regal Charm (auction price 160 gns) and Rushmoor Wish Me Luck (185 gns).
In Class 2, the send filly class, Miss S Harrison and Burnford Autumn Gold achieved first, Best Forest Bred and later Reserve Champion. This collection of prizes pushed the auction price of this foal up to 305 gns. Second place went to J. Haynes and Glenbeech Smartie (170 gns) and third, Sally Fear with Tilebarn Mary Magdalene (255 gns).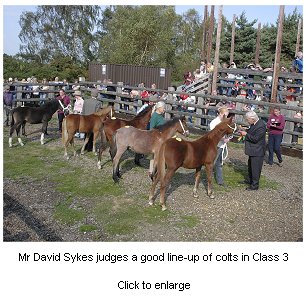 Class 3, the first of the colt classes, saw Miss Sally Marsh with Haywards Goldrush claim first and Overall Champion. Haywards Goldrush then went on to reach the top sale price of 475 gns. Miss Dionis Macnair and Beacon Benjamin won second and Best Forest Bred (205 gns) followed by third placed, R J Bessant and Obershade Swift (130 gns).
Finally, in Class 4 - the second of the colt classes saw first place being awared to Miss Lucinda Ingram and Hilltop Jester (155 gns), second place T Nineham & J Young with Brock Backgammon (150 gns) and third place to Sally Fear with Tilebarn Joseph (95 gns).
After the show the judge, Mr David Sykes said, "the winning foals are potentially good tough ponies that could live out, strong on type with a bit of quality. The Champion is a very correct and free moving colt. The Reserve champion, a filly, a smaller type but fulfilled my criteria. Very good animals topped the line in each of the four classes - the championship was from four first rate ponies."
The next Registered New Forest Pony Sales at Beaulieu Road will be 19th October and 23rd November. Pre-sale shows are in May for Youngstock and September/October for Foals. Further details can be obtained from www.nfed.co.uk or Mandy Pidgley who can be contacted by either email - Haywardsponies@aol.com - or by telephone on 01590 676476.