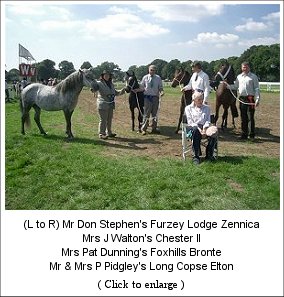 Perfect weather bought a lovely ambience to this year's New Forest Pony Breed Show which was held at New Park, Brockenhurst over the Bank Holiday weekend of 25th -27th August. Many friendly faces were in attendance.

To mention just a few ponies and people, 85 years young, Mr Don Stephens went home with a smile on his experienced face. His stallion Furzey Lodge Zennica came 4th in the Forest-run Stallions, 4 yrs old and over, (to have run on the Forest in the current year from 1st May to 1st July) and his three sons, Rushmoor Huntley, Blakeswater Winky and Hatchett Sunseeker claimed 1st, 2nd and 3rd respectively in Class 3 Forest-run colts 2 to 3 years old.
Over the moon with her win, Mrs Pat Dunning with Foxhills Bronte won Forest-run Youngstock, (yearlings to have run the Forest from 1st June to 1st August, 2 and 3 year olds from 1st May to 1st August in current year). The filly then claimed the Forest Bred Youngstock Championship and rounded off the day with Reserve Forest Bred Overall Champion to Mallards Wood Goddess.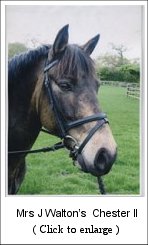 Chester II, 14 years old (owned by Mrs Janet Walton) went to the show for a "jolly". Starting life as a Forest Bred orphan, nothing daunts him. He won the Elementary 41 and then came 1st in the Combined Training which entailed Dressage Test Prelim 14 followed by a Show Jumping round at 2'6".
That small old favourite, Long Copse Elton came 1st in Forest Bred Forest Run ridden, was Forest Bred Ridden Champion, Overall Forest Bred Ridden Champion, Reserve Owner/Rider Champion, and Reserve, reserve in the Baileys Olympia qualifier. When are we going to see this little chap at Olympia?
New Forest pony to look out for at Olympia this year, not Forest Bred, is Farriers Fingerprint (Mrs Shirley Young) who delighted the crowd with her win.
Joy Alderson
Sec. of the New Forest Pony Publicity Group